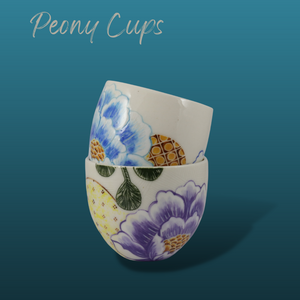 Two colourful cups to brighten your day. Made to be embraced by the hand. Take a moment out of your day to concentrate on just being you.
Hand made on the potters wheel and hand painted using ceramic underglazes. Perfect for green tea or even a G&T.
Made in Australia.
Porcelain and ceramic underglazes.
Dimensions: Purple peony 7.5cmW x 6.4cmH approx. Blue peony 6.9cmW x 7cmH approx.
Free Shipping.